Authorised retailer for DKNY Watches. DKNY are a world renowned brand in the world of fashion. The DKNY watch range includes a stylish range of watches which perfectly compliment almost any outfit imaginable. DKNY watches are produced with high quality materials to ensure the watches are made to last at an affordable price. No matter which DKNY watch you choose to own, you will receive a high quality watch, with impeccable style, backed by a strong brand.
Brand History
DKNY was founded by fashion designer Donna Karan, she was working as head designer at Anne Klein in 1984 when Takihyo LLC (owners of Anne Klein) when she was offered the the opportunity to run her own business. The DKNY line appeared in 1989 as a younger, affordable, fast-fashion line to compliment the high-fashion mainline Donna Karan New York label. Over the years DKNY has been a wildly successful brand with retail stores all over the world. DKNY watches were launched in the year 2000 and they have become incredibly popular with fashion conscious watch buyers worldwide.
Innovative Designs
An important aspect of the DKNY brand is innovation and DKNY watches display that innovation throughout the range. Watches like the
DKNY NY2235
and the
DKNY NY3715
are great examples of the importance of the brands innovation through design.
Brilliant Build Quality
You will find only the highest quality materials in DKNY watches, the quality construction of the watches are just as important as their appearance. Materials like Rose Gold and Stainless Steel can be found throughout the range, the quality materials used in the watches mean that your watch will stand the test of time.
A Look for Each Occasion
Whether you want a top of the range watch like the
DKNY NK8181 Chronograph
or a nice simple
DKNY NY8831
there will be something for you within the range.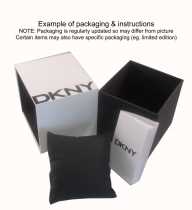 Official DKNY UK dealer
Great prices and savings on high street RRPs
Make us an offer service
Thousands of online reviews - average rating 4.9 / 5: Google Reviews - Trustpilot - ResellerRatings
Free bracelet adjustment available on metal watches
Over 20 years of high street watch and jewellery experience
---